From 6 July till 13 July 2021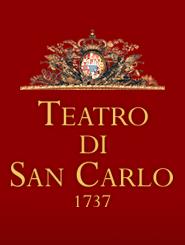 Opera in four acts
Libretto by Giuseppe Giacosa and Luigi Illica, after the novel by Henri Murger Scènes de la vie Bohème
Conductor | Juraj Valčuha
Master of the Chorus | Gea Garatti Ansini
Master of the Children Chorus | Stefania Rinaldi
Stage director | Emma Dante
Set designer | Carmine Maringola
Costume designer | Vanessa Sannino
Lighting designer | Cristian Zucaro
Choreographer | Sandromaria Campagna
Cast
Mimì | Eleonora Buratto
Musetta | Damiana Mizzi
Rodolfo | Piero Pretti
Marcello | Andrzej Filończyk
Schaunard | Pietro Di Bianco
Colline | Daniel Giulianini
Benoit / Alcindoro | Matteo Peirone
Parpignol | Daniele Lettieri
Orchestra and Chorus Teatro di San Carlo
with the participation of the Children Chorus of Teatro di San Carlo
New Production of Teatro di San Carlo
July 2021
SERIE BLU
Tuesday 6 July, h 20.00 - Fee VI
Thursday 8 July, h 18.00 - Fee VI
Saturday 10 July, h 19.00 - Fee V
Sunday 11 July, h 17.00 - Fee V
Tuesday 13 July, h 20.00 - Fee VI
Performances out of Subscription
Sung in Italian with Italian and English surtitles
Running time: about 2 hours 50 minutes, including one interval.
Since its premiere in Turin in 1896 La Bohème has been considered one of the most beloved operas of all times in music history and every return to Naples is a cherished discovery. As in the great works of drama and literature, the protagonist is young love, lived fiercely despite the misery and modesty of a loft and shared with bohemian artists. La Bohème is a unique opera not only as far as Puccini's production but also in the operatic landscape of a century that was about to leave room for a new one. Surely Puccini's syndrome kills the heroine of the moment as it happens in his other works, however, thanks to music, the mix between pathos and vital energy creates a perfect device built on the balance of couples in love. Puccini composed sublime music to describe a situation of social unrest, which today appears very modern and actual, as it is pointed out by Emma Dante's own interpretation in this new production of Teatro San Carlo, destined to be performed many times with its innovative formula and constant renewal of the show.